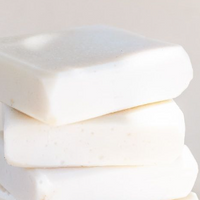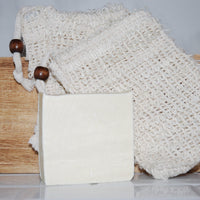 Goat's Milk Soap Unscented
Goat's Milk Soap indulges with a lavish lather, leaving skin feeling saturated in vitamins, minerals, and butterfat. It's a perfect pick for those with sensitive, dry, and itchy skin. Each batch is curated with the finest blend of Olive, Avocado, Coconut, and Castor Oils, plus Shea and Cocoa Butters, all softened with Colloidal Oatmeal for a sumptuous experience. 
Unscented, pure and simple.
Bar Size: approximately 4 oz / 122g
** Bay Harbour soap is handcrafted in small batches.  Bars are cut by hand and may have slight variations in size, swirl and colour.  The quality of the ingredients never varies!
How to Care for your handcrafted soap:
To extend the life of your soap, use a slatted soap dish to keep your soap dry between uses. 

Cut your bar in half to share or use in other soap dishes. 

Use a Sisal Soap Saver to create more lather and extend the life of your soap bar.  You can keep adding ends to your Soap Saver!
**Always try a test patch the first time using new product. If irritation occurs, discontinue use. Do not use on open cuts or wounds. It is always recommended to consult with a qualified healthcare practitioner if you are pregnant, nursing or on any medications. 
**Product is for External Use Only ** 
Aqua, Sodium Olivate (Olive Oil), Sodium Avocadate (Avocado Oil), Sodium Cocoate (Coconut Oil), Sodium Shea Butterate (Shea Butter), Sodium Ricinoleate (Castor Oil), Sodium Cocoa Butterate (Cocoa Butter), Goat's Milk, Sodium Lactate, Kaolin, Avena Sativa (Oat) Kernel Flour
Lather up and enjoy wherever you wash! When you're not using your soap, try to keep it in a dry location.
Store in a dry location when not using